The governor of the oil-rich Ahwaz region ( province of Khuzestan, southwest Iran), says a major dam on the Karkhe river is completely full, and local residents in several cities and villages have been ordered to evacuate their homes.
Furthermore, according to Gholamreza Shariati, the volume of water in Iran's biggest and only navigable river, Karoon, is increasing at an alarming rate of 3200 cubic meters per second.
"An evacuation order has been issued for people living in the towns of Soosangerd, Bostan, Rafee', Koot Seyyed Na'eem, Abu Humaydha, and Hamidiya," local news outlets cited Shariati as saying.
It is necessary for women, children, and the elderly to leave those areas, the governor stressed, saying young people can stay and protect the cities by making flood barriers, the governor maintained.
The city of Sheiban, north of Khuzestan capital city of Ahwaz, is already evacuated, while flood alarms have been raised in other cities, including Darkhovein.
Flood waters in Ahwaz streets, April 8.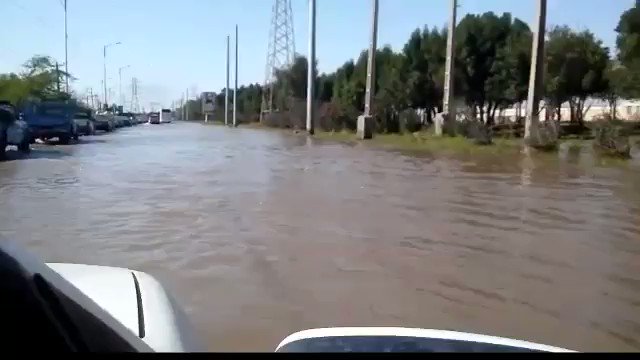 "While the inflow and outflow of water at the Dez dam have declined and the situation is under control, the other major dam on the Karkhe River has overflown, "Shariati cautioned, adding, "The reservoir of Kharkheh dam is overflowing, and we should plan ahead, hoping to find a way to address the problem".
Meanwhile, a lawmaker from Ahwaz said, "The whole city of Sousangerd might be engulfed in water, and people should comply with the orders of the Crisis Management Department, and evacuate their homes."
People of the city of Sheiban were forced to evacuate their homes after the floodgates near the city broke down, but, Shariati asserted that efforts to repair the canal are underway.
The province's capital city, Ahwaz, was also at the mercy of floods, after a part of the town, close to the road leading to the city of Andimeshk was submerged.
"We have succeeded to divert a part of the water toward the neighboring plains, but some parts of Ahwaz will inevitably be inundated," Shariati acknowledged.
The Minister of Interior, Abdolreza Rahmani Fazli, warned last Friday, April 5, that 400,000 of the residents of Khuzestan were "seriously threatened" by flash floods.
The director of Khuzestan's Department of Crisis Management announced on Monday, April 8, that 210 villages have been evacuated, and 43,000 people have been moved to emergency shelters in the oil-rich province, so far.
In the meantime, the Mayor of Darkhowein has admitted that his city is gravely threatened by possible floods.